Blog | Latest Updates
click title to read more….
About the CCHS
In 1905, at the same time plans were being made to erect a monument to commemorate the Tea Burning in Greenwich, the Cumberland County Historical Society was organized as a non-profit corporation. The first recorded meeting of the incorporators of the Cumberland County Historical Society was held in the old Cumberland County Court House on Broad Street in Bridgeton at 2 PM on December 2, 1908.
Mailing Address:
Cumberland County Historical Society
P.O. Box 16
Greenwich, New Jersey 08323
The office of the Cumberland County Historical Society is located in the Warren and Reba Lummis Genealogical and Historical Library, located at 981 Ye Greate Street, Greenwich, New Jersey 08323.
Office hours are Tuesday, Wednesday and Friday from 1 to 4 p.m.
The Library is open for research on Wednesday from 10:00 am to 4:00 pm and Saturday and Sunday from 1:00 to 4 pm. Click here for more details.
The telephone number is 856-455-8580. Our email address is cchistsoc@verizon.net.
Upcoming Events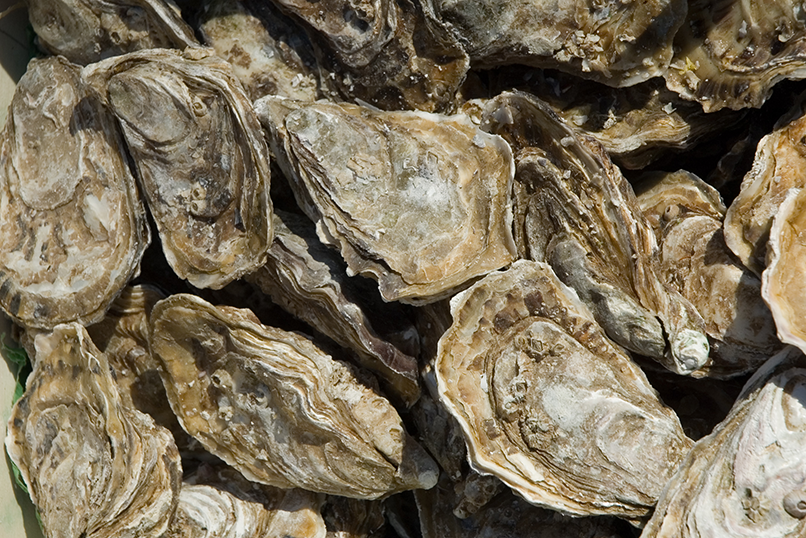 Speaker Series: Maritime Industries in Cumberland County, NJ by Taylor Carter
January 29 @ 2:00 pm – 4:00 pm
981 Ye Greate Street Greenwich, NJ 08323
Taylor Carter's talk will focus on the history of Maritime Industries in Cumberland County, NJ. She will be primarily focusing on the Oyster Industry.
The event will be available in person and via zoom. Please email us by January 28 at brittlp48@gmail.com if you would like to attend virtually. The zoom link will be emailed on the day of the event.
Carter received her BA in History and Anthropology at Monmouth University. She completed her MA in Anthropology at Monmouth university where Carter focused on Historic Archaeology of the Mid-Atlantic region. Carter worked in cultural resource management before taking classes in Museum Studies at Seton Hall University. Currently, she works as the Curator at the John Dubois Maritime Museum. By working in the museum field, Carter is able to explore and share stories of those often forgotten in history.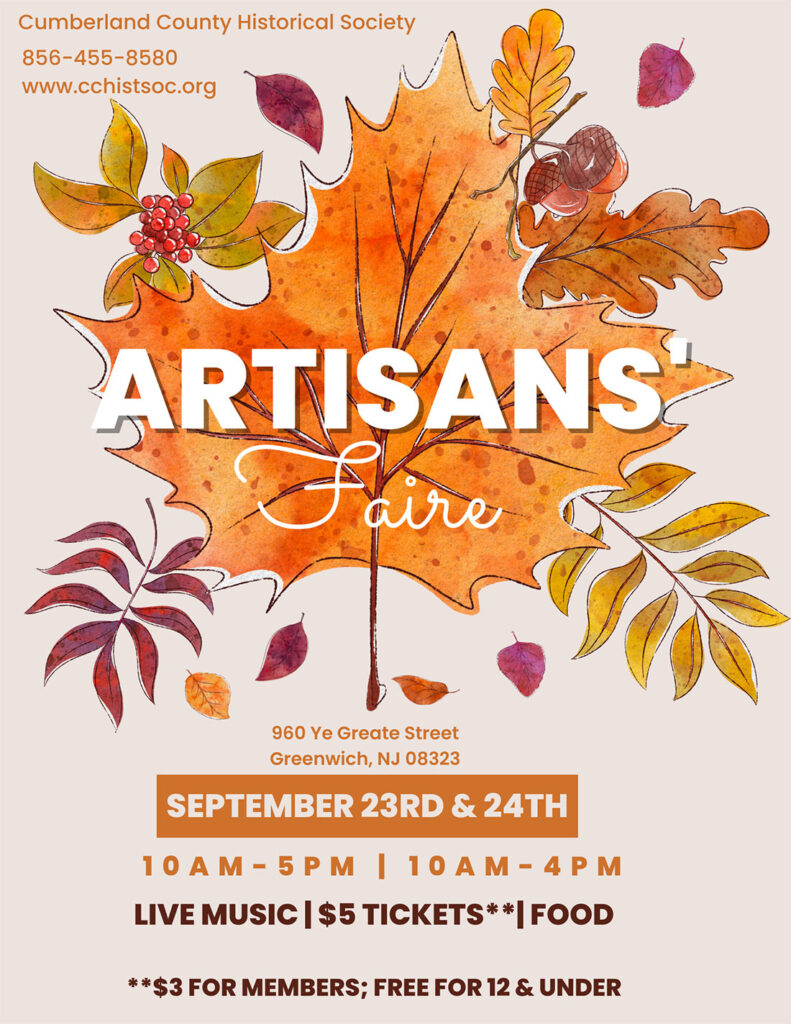 Greenwich Artisans' Faire & Marketplace
September 23rd & 24th, 2023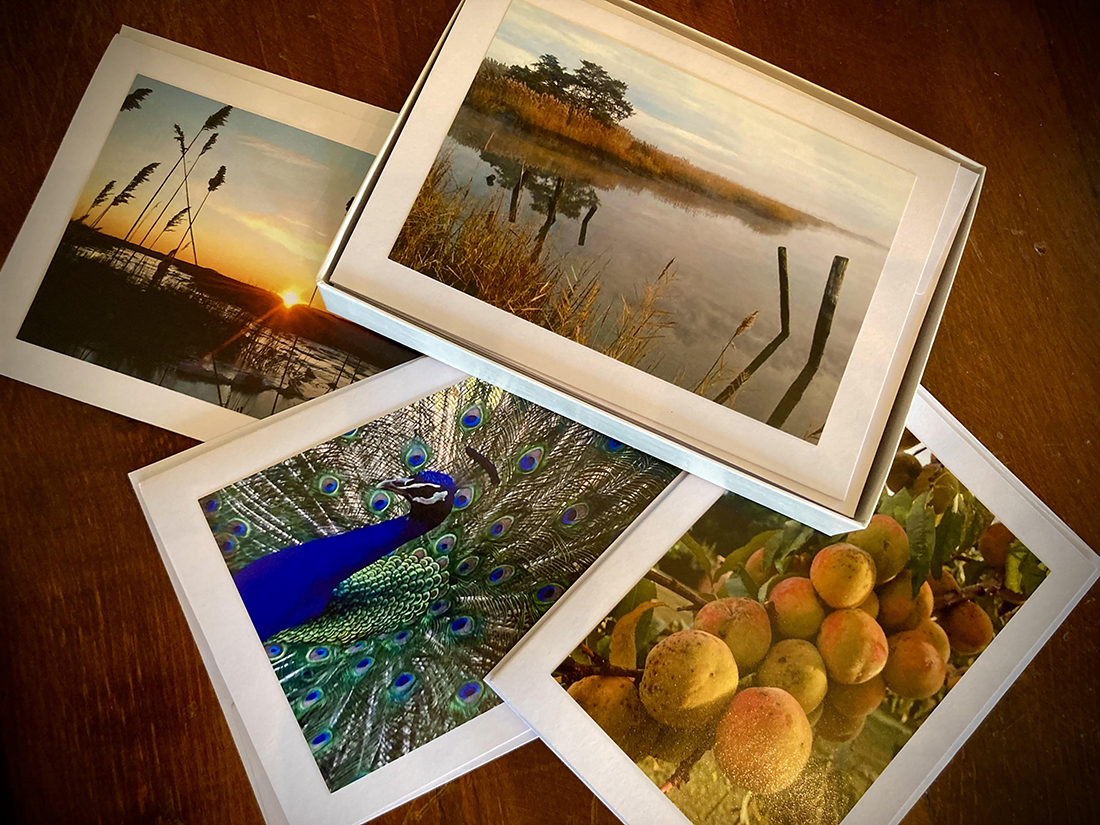 BOXED SET OF 12 DIFFERENT PHOTO CARDS
As part of the Holiday House Tour – we are offering a boxed set of 12 different photo cards. The images of our beautiful area were graciously donated by our residents. They will be sold at the house tour – but you can also buy one now – as supplies will be limited. The price is $18 ($1.50 a card!) before the house tour and $20 the day of the house tour, December 11th.
These cards would make an excellent teacher gift, a great gift for someone who grew up in the area and had to move away, and are just a very thoughtful gift for under $20. Get them while they last!
You can pick them up at the Historical Society Library (981 Ye Greate Street Greenwich) on Wednesdays & Saturdays from 10am-4pm and on Sundays from 1-4pm. Cards can be purchased online via PayPal or at pick, please bring exact amount of bringing cash.
All profits will benefit Historical Society.
Reopening of the Gibbon House & Alan Ewing Carman Museum of Prehistory in Cumberland County
Saturday, April 2nd, 2022 –1 to 4pm
No Better Time to Become a Member
Of Interest
The Cumberland County Historical Society Receives First Prize in the
Kevin M. Hale Publication Awards
The League of Historical Societies of New Jersey has announced that the Cumberland County Historical Society has won first prize in the Kevin M. Hale Publication Awards for their book Early Wood Architecture of Cumberland County, New Jersey by Joan Berkey.   The award is being presented on June 11, 2016, during the League of Historical Societies of New Jersey's Spring Meeting at the Tewksbury Historical Society in Hunterdon County.
Create a Legacy
on the


Pathway to History
Dedicated on September 28, 2014, the Pathway to History Brick Memorial Walkway is located at the vestibule side entrance to the c. 1730 Gibbon House.
Memorial bricks are available for purchase for a limited time at a price of $125 per 4″x8″ brick. There is a limit of 36 laser-engraved characters total and no more than 12 characters per line. Each blank space counts as a character. Bricks can memorialize someone living or deceased. The purchase of a memorial brick, in the Pathway to History, is an excellent way to support the Cumberland County Historical Society while simultaneously recognizing someone who has made a difference in the donor's life. All funds generated from the purchase of memorial bricks are being deposited into the Historical Society's professionally managed permanent endowment.
If you have any questions, please contact Linda Peck at 856-455-8580 or email cchistsoc@verizon.net

We are part of AmazonSmile!
What is AmazonSmile?
AmazonSmile is a simple and automatic way for you to support your favorite charitable organization every time you shop, at no cost to you. When you shop at smile.amazon.com, you'll find the exact same low prices, vast selection and convenient shopping experience as Amazon.com, with the added bonus that Amazon will donate a portion of the purchase price to your favorite charitable organization. You can choose from over one million organizations to support.
Do you like history?

Interested in pursuing a career in museums/archives?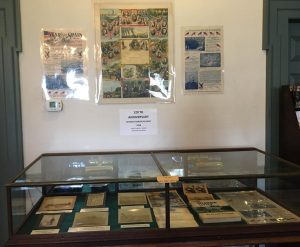 The Cumberland County Historical Society offers a number of different types of projects for those looking for internships or volunteer opportunities. The Society is in constant motion throughout the year with its normal daily operations, special projects, and events.
Support the CCHS
Ways to Give to the Cumberland County Historical Society
There are many ways to help insure the Society's financial viability, as outlined below:
Membership
Membership is the most basic way to support the Cumberland County Historical Society.  The benefits of membership are described in a separate web page.  Please visit "Join."