Blog | Latest Updates
click title to read more….
About the CCHS
In 1905, at the same time plans were being made to erect a monument to commemorate the Tea Burning in Greenwich, the Cumberland County Historical Society was organized as a non-profit corporation. The first recorded meeting of the incorporators of the Cumberland County Historical Society was held in the old Cumberland County Court House on Broad Street in Bridgeton at 2 PM on December 2, 1908.
Mailing Address:
Cumberland County Historical Society
P.O. Box 16
Greenwich, New Jersey 08323
The telephone number is 856-455-8580. Our email address is cchistsoc@verizon.net.
Upcoming Events
Annual House & Light Tour
December 17th, 2023
3-6pm House Tour
5-8 Lights Tour
$10/ Per Person
Tickets Can be purchased at the Lummis Library
981 Ye Greate Street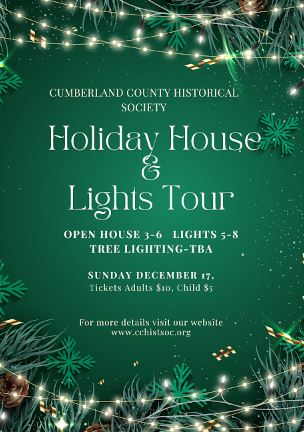 2024 Speaker Series
Warren & Reba Lummis Library
981 Ye Greate Street
Greenwich, NJ 08323
2pm
January 28, 2024
"Tribal Rights are Important Rights": The Origins, Travails, and Impact of the Nanticoke Lenni-Lenape Tribe V. The State of New Jersey
Brianna Dagostino, MA
Dagostino's published thesis details the history of her tribe and how modern-day racism over Indian casino gaming has affected not just her tribe but indigenous nations all throughout Turtle Island.
—
Brianna Dagostino is one of the Cumberland County Historical Society's docents at the Alan Carman Prehistoric Museum. Brianna is also a part of the local Nanticoke Lenni Lenape Tribal Nation of South Jersey. Throughout Brianna's life, her main goal has been to always spread the knowledge and culture of her people and their existence on Lenapehoking land. Throughout Brianna's academic career, she has been able to create an Indigenous studies minor program at Montclair State University, has been around the East Coast giving presentations to universities, museums, and schools, and has recently completed her Master's degree in Indigenous studies. Currently, Brianna is a high school history teacher and an employee at the Cumberland County Historical
February 25, 2024
"Man's Best Frenemy"
Tia Antonelli
"Man's Best Frenemy" will unpack how Cumberland County reacted to rabies and the wild dogs that were accused of spreading the disease. Rabies has been a threat to humans since the dawn of our existence — so why was there such an uptick in fear in the late 19th century?
—
Tia Antonelli is a graduate student at Villanova University, currently pursuing her Master's degree in History. She works at the Cumberland County Historical Society both as an Administrative Assistant at the Lummis Library and a Docent at the Gibbon House.
March 24, 2024
Crap: A History of Cheap Stuff in American
Dr. Wendy A. Woloson
Woloson tells the history of crap from the late eighteenth century up through today, exploring its many categories: gadgets, knickknacks, novelty goods, mass-produced collectibles, giftware, variety store merchandise. As Woloson shows, not all crap is crappy in the same way—bric-a-brac is crappy in a different way from, say, advertising giveaways, which are differently crappy from commemorative plates. Taking on the full brilliant and depressing array of crappy material goods, the book explores the overlooked corners of the American market and mindset, revealing the complexity of our relationship with commodity culture over time.
—
Wendy A. Woloson is a professor of history at Rutgers University-Camden and the author, most recently, of In Hock: Pawning in America from Independence through the Great Depression, also published by the University of Chicago Press, and co-editor of the collection Capitalism by Gaslight: Illuminating the Economy of 19th-Century America.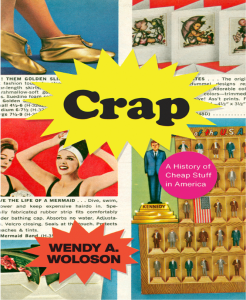 Check out our new merchandise, now available on Bonfire! All purchases directly support CCHS.
INTERNSHIP PROGRAM
CCHS has organized an internship committee to begin creating a formal internship program for the Spring semester of 2024. We would like to compensate our interns and are welcoming donations to go towards the program. If you would like to make a donation, please mail a check payable to CCHS with "intern" in the memo to CCHS Po Box 16 Greenwich, NJ 08323  or click the button below. Thank you for your support!
No Better Time to Become a Member
Of Interest
The Cumberland County Historical Society Receives First Prize in the
Kevin M. Hale Publication Awards
The League of Historical Societies of New Jersey has announced that the Cumberland County Historical Society has won first prize in the Kevin M. Hale Publication Awards for their book Early Wood Architecture of Cumberland County, New Jersey by Joan Berkey.   The award is being presented on June 11, 2016, during the League of Historical Societies of New Jersey's Spring Meeting at the Tewksbury Historical Society in Hunterdon County.
Create a Legacy
on the


Pathway to History
Dedicated on September 28, 2014, the Pathway to History Brick Memorial Walkway is located at the vestibule side entrance to the c. 1730 Gibbon House.
Memorial bricks are available for purchase for a limited time at a price of $125 per 4″x8″ brick. There is a limit of 36 laser-engraved characters total and no more than 12 characters per line. Each blank space counts as a character. Bricks can memorialize someone living or deceased. The purchase of a memorial brick, in the Pathway to History, is an excellent way to support the Cumberland County Historical Society while simultaneously recognizing someone who has made a difference in the donor's life. All funds generated from the purchase of memorial bricks are being deposited into the Historical Society's professionally managed permanent endowment.
If you have any questions, please contact Linda Peck at 856-455-8580 or email cchistsoc@verizon.net

We are part of AmazonSmile!
What is AmazonSmile?
AmazonSmile is a simple and automatic way for you to support your favorite charitable organization every time you shop, at no cost to you. When you shop at smile.amazon.com, you'll find the exact same low prices, vast selection and convenient shopping experience as Amazon.com, with the added bonus that Amazon will donate a portion of the purchase price to your favorite charitable organization. You can choose from over one million organizations to support.
Do you like history?

Interested in pursuing a career in museums/archives?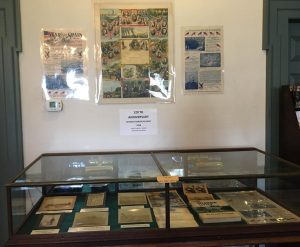 The Cumberland County Historical Society offers a number of different types of projects for those looking for internships or volunteer opportunities. The Society is in constant motion throughout the year with its normal daily operations, special projects, and events.
Support the CCHS
Ways to Give to the Cumberland County Historical Society
There are many ways to help insure the Society's financial viability, as outlined below:
Membership
Membership is the most basic way to support the Cumberland County Historical Society.  The benefits of membership are described in a separate web page.  Please visit "Join."