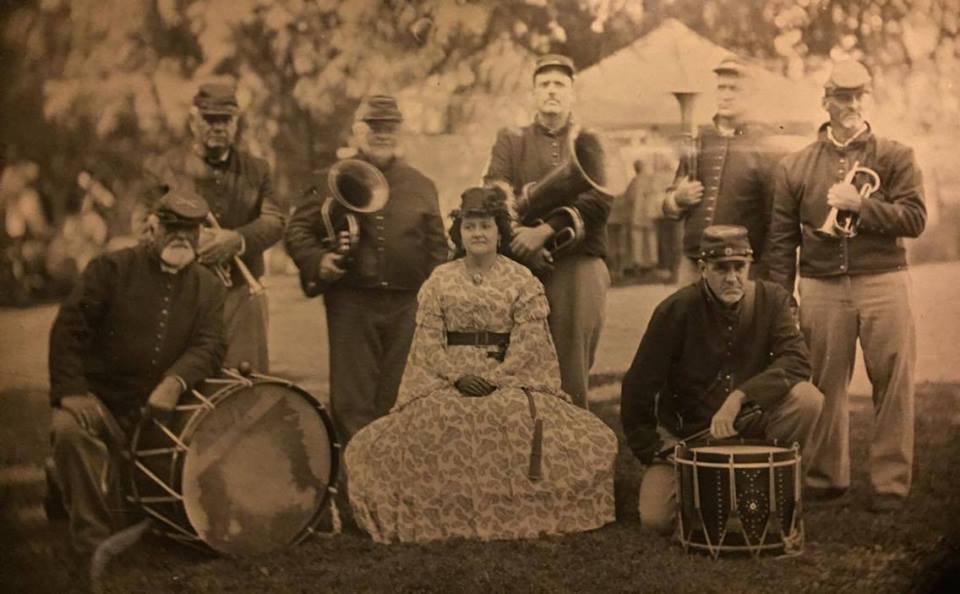 The Fort Delaware Cornet Band performed at the Greenwich Artisans' Faire. While on the grounds, the group had their tintype taken by John Bernaski, wet plate photographer who demonstrated Civil War era wet plate photography using original formulas, equipment and procedures.
JOIN
The Cumberland County Historical Society
PO Box 16
Greenwich, NJ 08323
856-455-8580
Gibbon House Museum | Warren and Reba Lummis Genealogical & Historical Research Library
The Alan Ewing Carman Museum of Prehistory in Cumberland County
John DuBois Maritime Museum | Red Barn Museum | Cumberland County Log Granary
New CCHS Membership
If you are interested in the preservation of your community's history then we invite you to become a member of the Cumberland County Historical Society. Your membership helps the Society in fulfilling its mission "to preserve and promote the history and heritage of the county through acquisitions, collections, exhibits and research, educational programs and publications for the benefit of current and future generations."
Your membership is valid for one year and is up for renewal every January. The fees for the membership is tax deductible. Those who join late in the year will receive past copies of The Cumberland Patriot Newsletter of that year. Letters and emails will go out notifying you when your membership needs to be renewed.
Benefits:
*Member must present membership card
Periodic issues of The Cumberland Patriot newsletter
Free photocopies at the Lummis Library
Discount for Hearthside Dinners (Except January)
Members receive Hearthside Dinner dates prior to non-members
$2.00 discount to Annual Craft Faire admission
Discount for the Annual Dinner
Member-only events with 1 Free Pass for a non-member
10% discount on merchandise (books/t-shirts, etc.)
Discount on workshops (3 workshops per year)
Membership Fees:
Individual $25
Couple $35
College Student (w/ID) $20
Under 18 years of age $10
Digital Membership $10
*Digital Membership gives members Access to Digital Copies of The Cumberland Patriot
Newsletter, no other memberships benefits are included in the Digital Membership