Annual Business/Dinner Meeting
November 10, 2018 @ 4:30 pm

-

7:00 pm
Annual Business/Dinner Meeting
Saturday, November 10, 2018
Business Meeting – 4:30 p.m.; Dinner – 5 to 6 p.m.; Program – 6 p.m.
You and a guest are invited to attend the Cumberland County Historical Society's
Please download file to print and fill out for Reservation to the Annual Business Meeting
ANNUAL BUSINESS AND DINNER MEETING
SATURDAY, NOVEMBER 10, 2018
Greenwich Presbyterian Church
630 Ye Greate Street, Greenwich, New Jersey 08323
4:30 PM Business Meeting
5 PM Ham Dinner with all the Trimmings
6 PM Program—The Cumberland County Historical Society
and the Board of Trustees welcome guest speaker, "Mark Twain"
$25 per person for members and $30 per person for non-members.
Please make check payable and mail to the
Cumberland County Historical Society
PO Box 16
Greenwich, New Jersey 08323
Reservation deadline is October 31st.
Please call the office (856-455-8580) for additional information.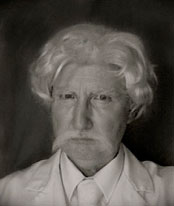 Samuel Langhorne Clemens
Better known by his pen name, MARK TWAIN, American writer.
(Portrayed by Bob Gleason from the American Historical Theater in Philadelphia.)
Author and humorist, Samuel Langhorne Clemens, or as he is better known, Mark Twain, used his home town of Hannibal, Missouri as the backdrop for his two most notable works: The Adventures of Tom Sawyer and Adventures of Huckleberry Finn (which has often been referred to as the Great American Novel). He tried a number of other career options before discovering his true vocation. He was an apprentice printer, a typesetter, a riverboat pilot, a gold miner, inventor and finally a journalist. He was a Jack-of-all-trades, who could never master his finances, though he always made sure his debts were eventually paid, but when it came to writing he certainly excelled. He became well-known for his works, was acclaimed by his peers, and counted presidents and industrialist and other notables amongst his friends.
Bob Gleason was trained in Theater by performing in 60+ productions at West Chester University. A member of the Army's Special Services Chorus, he shared his four-octave vocal talents as a goodwill ambassador touring the US and Germany.

Since 1991, Bob Gleason has been the American Historical Theater's "go to guy." If you need it, Bob can do it! Over the years, Mr. Gleason has been featured at the White House Visitor's Center, Ford's Theatre, the National Archives, the Library of Congress, the Air and Space Museum of the Smithsonian Institution, Constitution Hall, the National Constitution Center, Independence Hall, Mask & Wig, Elder Hostels, Bartram's Garden, Betsy Ross' House, the General Warren Inn, and the Freedoms Foundation of Valley Forge. Bob has been especially popular at schools, museums, historic sites and libraries throughout the United States. In-depth historical research and audience interactivity have become hallmarks of Mr. Gleason's historical portrayals. He's now performing for the children of children he previously educated and entertained.
CUMBERLAND COUNTY HISTORICAL SOCIETY'S SITES TO SEE AND VISIT ALONG YE GREATE STREET IN GREENWICH
·       1730 Gibbon House – This well-preserved townhouse was erected by Nicholas Gibbon, who built his home in the village because it was convenient for his shipping business.  The house is an excellent example of Flemish bond patterned brick work, with red and blue alternating headers and stretchers forming the pattern and a pent-roof. (Hours open: Tuesday through Sunday – 1 to 4 p.m.  Closed January, February and March.)
·       Cumberland County Log Granary – When the granary was built, this part of South Jersey was known as New Sweden.  It is said to be the oldest agricultural building in the United States.  (Same hours as the Gibbon House.)
·       1930 Red Barn Museum – On display are items once used in the homes, farms and industries of Cumberland County.  (Same hours as the Gibbon House.)
·       Warren and Reba Lummis Genealogical & Historical Library – This modern building (1969) was constructed in an authentic colonial style in order to harmonize with the other buildings on Ye Great Street.  The decorative spikes on the slate roof prevent snow or ice from sliding off the roof. Originally built as a bank, the building is now owned by the Society and houses its genealogical library and many documents pertinent to the county's history.  (Hours open: Wednesday – 10 a.m. to 4 p.m.; Saturday and Sunday – 1 to 4 p.m.)
·       1852 John DuBois Maritime Museum – This museum is home to an extraordinary collection of South Jersey Maritime artifacts collected by John DuBois.  Visitors can step back in time and learn of Greenwich's rich maritime history.  It provides a look at the water industry that flourished in the area until the Second World War.  Exhibits include models of oyster boats that once plied the bay.  (Hours open: April through mid-December – Sundays only 1 – 4 p.m.)
·       Alan Ewing Carman Museum of Prehistory in Cumberland County – This museum is home to the Archeological American Indian and Fossil Collection of Alan Ewing Carman.  They were collected over fifty-one years of field work.  (Hours open:  Wednesday, Saturday and Sunday – 1 to 4 p.m.  Closed January, February and March.)
·       1908 Tea Burners' Monument – The monument was erected in 1908 to commemorate the burning of tea in protest of the hated British Tea Tax.  No event in the history of Cumberland County has received such recognition or has been so highly honored as this act on the part of the young patriots whose names are listed on the monument.
OTHER SITES IN CUMBERLAND COUNTY MANAGED BY THE HISTORICAL SOCIETY
Cumberland County Liberty Bell – located in the Cumberland County Courthouse, Broad Street, Bridgeton, New Jersey
Potter's Tavern – located on Broad Street in Bridgeton, New Jersey (Open on July 4th each year.)
Old Stone Church – located in Fairfield Township, Bridgeton, New Jersey
Additional information on front page.