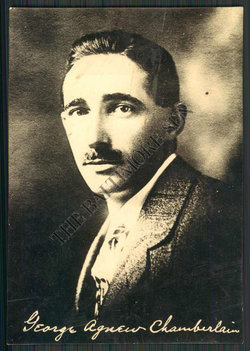 Speaker Series: "George Agnew Chamberlain and South Jersey Stories" by F. James (Jim) Bergmann
March 10, 2019 @ 2:00 pm

-

4:00 pm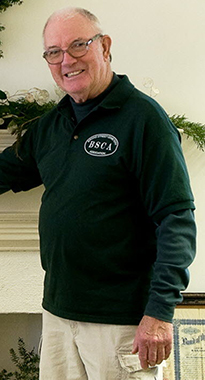 "George Agnew Chamberlain and South Jersey Stories" by F. James (Jim) Bergmann
Come and discover the thirteen forgotten novels about South Jersey by George Agnew Chamberlain, plus his one other South Jersey novel published under the pseudonym Michael Brandon. These forgotten novels have a historical basis. They range from horse stories to a psychological thriller. Having written eleven previous novels and one non-fiction book he wrote his first South Jersey novel in 1923. Highboy Rings Down The Curtain was published by the Bridgeton Evening News. His last South Jersey novelette was Lord Buff and The Silver Star in 1955. Several of these novels were made into Hollywood movies with famous actors. Chamberlain's writings of South Jersey and its Barrans are colorful, descriptive and paint a vivid picture of the area where he lived for thirty-seven years. His characters portray the people as they were at the time he wrote their story. There are several other published and unpublished South Jersey stories to be discussed plus exhibits.
Bio
Jim Bergmann grew up in Glassboro, attended the Demonstration School (1st to 8th) at Glassboro State Teachers College, Glassboro High School and Glassboro State College (Rowan Univ.) At GSC he earned a BA in Education, an MA in Special Education and an MA in Administration. He Taught Special Education and Alternative Education Classes and was the first Principal of Cumberland County Vocation-Technical Center.
He and his family relocated to Alna, Maine where they lived for sixteen years. While there he was part of the Alna Historical Society and helped for the Wiscasset, Waterville and Farmington Railway Museum. As curator he authored the book The Narrow Gauge Railroad in Alna, Maine, published in 2009. As a member of the Broad Street Cemetery Association he wrote and published the book, Broad Street Cemetery-Bridgeton, NJ – A History 1791-2013 and Guide. He has researched and hoping to publish a book about the Civil War Veterans buried in the cemetery. Jim also has three currently unpublished books. One is about a local Alna boy who became a physician and earned worldwide recognition for pioneering bone grafting. Another book is about the history of the one-room schools in Alna and his last is a biography of George Agnew Chamberlain, local author and diplomat. His biography called Go as You Please has involved researching family papers, interviews and gathering information from foreign countries. Bergmann has given talks about Chamberlain, the Cumberland Nail and Iron Works, and the Bridgeton City Park.
Jim and his wife Mary Ella have been married 60 years and have two adult children and two grandchildren. His interest in history began in high school and since his retirement in 2000 he has been able to collect local history and write about various subjects.
CUMBERLAND COUNTY HISTORICAL SOCIETY'S SITES TO SEE AND VISIT ALONG YE GREATE STREET IN GREENWICH
·       1730 Gibbon House – This well-preserved townhouse was erected by Nicholas Gibbon, who built his home in the village because it was convenient for his shipping business.  The house is an excellent example of Flemish bond patterned brick work, with red and blue alternating headers and stretchers forming the pattern and a pent-roof. (Hours open: Tuesday through Sunday – 1 to 4 p.m.  Closed January, February and March.)
·       Cumberland County Log Granary – When the granary was built, this part of South Jersey was known as New Sweden.  It is said to be the oldest agricultural building in the United States.  (Same hours as the Gibbon House.)
·       1930 Red Barn Museum – On display are items once used in the homes, farms and industries of Cumberland County.  (Same hours as the Gibbon House.)
·       Warren and Reba Lummis Genealogical & Historical Library – This modern building (1969) was constructed in an authentic colonial style in order to harmonize with the other buildings on Ye Great Street.  The decorative spikes on the slate roof prevent snow or ice from sliding off the roof. Originally built as a bank, the building is now owned by the Society and houses its genealogical library and many documents pertinent to the county's history.  (Hours open: Wednesday – 10 a.m. to 4 p.m.; Saturday and Sunday – 1 to 4 p.m.)
·       1852 John DuBois Maritime Museum – This museum is home to an extraordinary collection of South Jersey Maritime artifacts collected by John DuBois.  Visitors can step back in time and learn of Greenwich's rich maritime history.  It provides a look at the water industry that flourished in the area until the Second World War.  Exhibits include models of oyster boats that once plied the bay.  (Hours open: April through mid-December – Sundays only 1 – 4 p.m.)
·       Alan Ewing Carman Museum of Prehistory in Cumberland County – This museum is home to the Archeological American Indian and Fossil Collection of Alan Ewing Carman.  They were collected over fifty-one years of field work.  (Hours open:  Wednesday, Saturday and Sunday – 1 to 4 p.m.  Closed January, February and March.)
·       1908 Tea Burners' Monument – The monument was erected in 1908 to commemorate the burning of tea in protest of the hated British Tea Tax.  No event in the history of Cumberland County has received such recognition or has been so highly honored as this act on the part of the young patriots whose names are listed on the monument.
OTHER SITES IN CUMBERLAND COUNTY MANAGED BY THE HISTORICAL SOCIETY
Cumberland County Liberty Bell – located in the Cumberland County Courthouse, Broad Street, Bridgeton, New Jersey
Potter's Tavern – located on Broad Street in Bridgeton, New Jersey (Open on July 4th each year.)
Old Stone Church – located in Fairfield Township, Bridgeton, New Jersey
Additional information on front page.